The modern man has a lot of places in which he can look for fashion inspiration, from magazines and websites to the people you see in movies and in films. There are not many guys out there today who work outfits that are more than just the classic black suit or that impossible to replicate. In this sense, one of today's style icon is Andy Cohen, who's style is a sartorial lesson for all men who enjoy feeling and looking great while making use of a variety of styles, textures, patterns and colors. Andy Cohen might be a television genius, but he is also a great style and fashion influencer.
He recently became more and more famous and he drew our attention as he also seems to be a very stylish guy. For those of you who don't know, Andy Cohen is an American television personality. He is the guy who created and produced several reality shows that became huge successes and is also the host of his talk show, "Watch What Happens Live", which airs on US cable channel Bravo. He also wrote a book titled "Most Talkative", which is an adjective which everyone agrees that it really fits him well. He recently announced his second book, which will be called "The Andy Cohen Diaries".
There are many things that we like about Andy's style. The main thing about it is that it is always changing and developing. Also, Mr. Cohen seems to always be wearing just the right thing for the occasion. This is something we all need to take in and implement in our lives: knowing what to wear when. Thirdly, what we like about Andy's style is that he owns his clothes so well that he always feels very comfortable in whatever he is wearing, even though it's most likely that the clothes he wears every evening on TV do not come from his personal wardrobe and he's never worn them before.
That's an approach to fashion we really like: when you put on a quality suit or any other piece of clothing, you should embrace it and make it your own! Your attitude towards the clothes you are wearing is very important and believe it or not, it really shows, even if you don't think so.
Let's take a look at some of the things Andy does sartorially great:
Daily work outfits
Mixing colors & patterns
First off, we are going to look at some of Andy's looks from his show. Generally, Andy makes use of bold colors and does not shy away from patterns and mixing them, but he keeps it classic and elegant at the same time.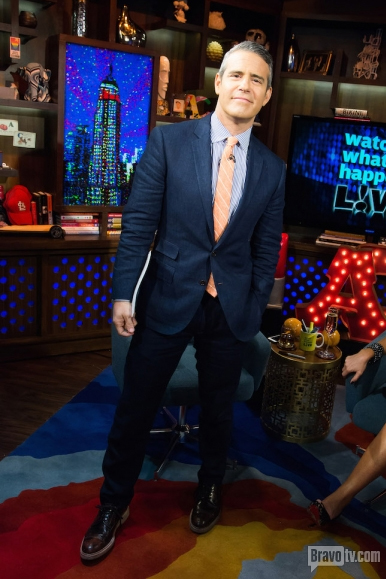 In this picture, you see him wearing complementary colors: orange and blue. The light-blue shirt and the orange tie are matched with a J. Crew Ludlow dark-blue suit. Here's what you can learn from this outfit: If you want to wear the same color twice (in this case, blue), you can wear it in two different shades to make the combination look more interesting and pair it with a contrasting tie (or other accessory). To create a big contrast, you can use complementary colors, which are the colors situated on exact opposite sides of the color wheel. Also, what we like about this outfit is that Andy does not shy away from mixing patterns and he does it right: thin stripes on his Ralph Lauren Purple Label shirt and thicker stripes on his Ovadia & Sons tie. In case you were asking yourself, the shoes are Jimmy Choos.
Semi-formal outfits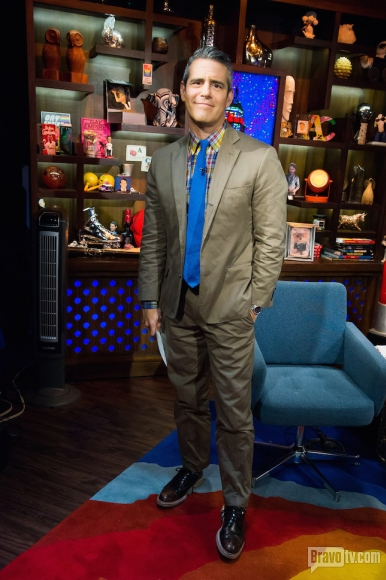 In this picture, Andy is wearing a Todd Snyder neutral suit, paired with a blue Polo tie. The reason his Seize sur Vingt shirt goes so well with the tie is because in the busy pattern of the shirt, you can find the color of the tie, even if just in a small amount. What you can learn from here is that:
a) A suit in a neutral color can (and maybe even should) be worn with a very colorful shirt.
b) A shirt with a busy pattern or print can be easily worn with a solid color tie, if the color of the tie is found somewhere on the shirt as well!
Simple, but effective outfits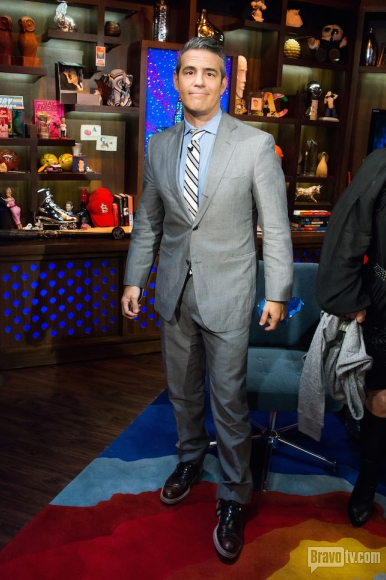 This outfit is one of our favorite form Andy's recent shows, as it is extremely simple, yet sophisticated. Simplicity is very hard to obtain, but in this case, Andy really pulled it off. He wore a gray Todd Snyder suit, a striped Brooks Brothers Black Fleece tie and an amazing light blue Ralph Lauren Black Label shirt. The reason why this outfit looks so well is because the very light splash of color is framed by neutral colors in different shades (different shades of gray, black and white stripes), making it stand out, even if in itself the shirt is not eye-grabbing. Making a simple, delicate piece stand out is definitely an art we can learn to master from Mr. Cohen. Of course, the Jimmy Choo shoes never fail to impress.
Also, please notice that Andy always correctly follows the "button rule": his lower button is always left open.
The Texas style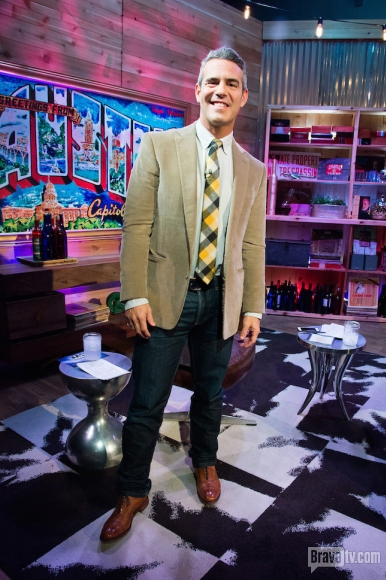 For hosting his Texas shows, Andy opted for a more casual look. In this case, you can see how the mix of jeans (BPD Washhouse) with a Black Fleece by Brooks Brothers tie in a big pattern and more relaxed fabrics gave him an overall relaxed look. Also notice that Andy does all things right: his tie reaches his belt, his sleeves pop out only 1 inch / 1,5 cm out of his jacket's sleeves and everything fits just right. His Allen Edmonds shoes completed the outfit and made for a good match to his Ralph Lauren jacket.
Casualwear
Even though his roots don't lie there, Andy is a true New Yorker. He is always meeting up with people, working or doing something else that does not require a suit and fancy shoes. For these settings, Andy knows that a casual shirt can be worn over your pants, but that in this case it should never be longer than your tush. Back a while ago, Andy was known for wearing open shirts, but he seems to have toned it down lately, making room for other fashion elements in his daily routine.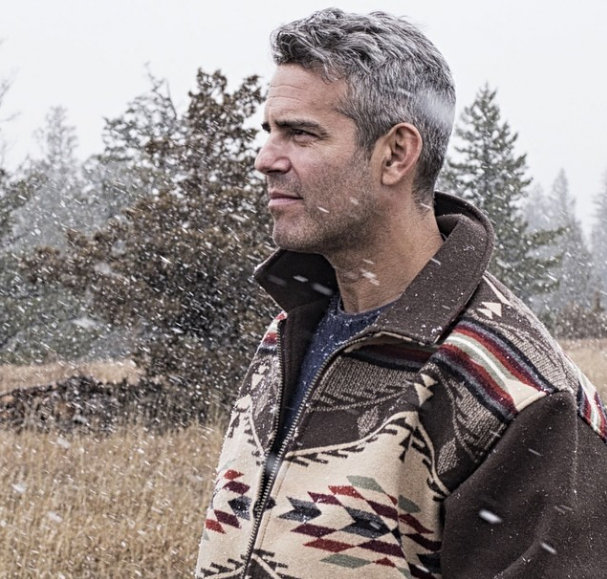 Andy shared this picture on Instagram. We like the fact that he keeps his winter sweaters colorful and patterned as well and that he knows how to layer: the thin layer goes beneath, the more voluminous one goes on top!
The pajama
During hurricane Sandy, Andy's show's producers could not book anyone to come out of their homes and make an appearance on the show, so Andy did a solo pajama party!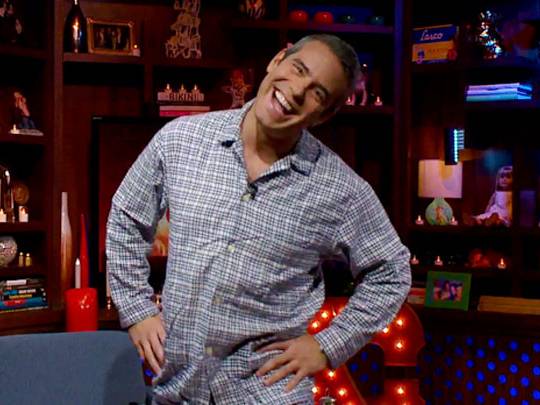 Formalwear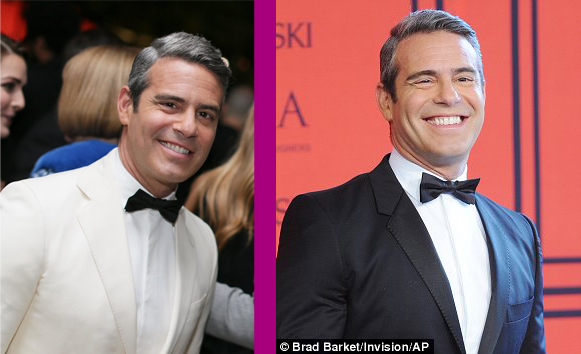 Andy is a guy who is often invited to formal events, to attend or simply to host. He always knows which event is formal and which is semi-formal. Just because pictures are taken and it's evening, doesn't mean you need to wear a tuxedo. But if the event requires it, Andy always opts for a well-fitted, well-pressed outfit. He often rocks black and white combinations or all-white outfits!
The beard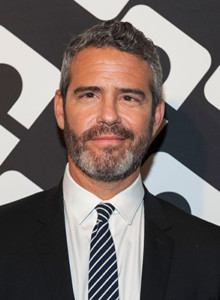 Back a while ago, Andy let his beard grow in attempt for a new look. His beard became quite controversial and in the end it seems that Andy decided that it was not the best look for him.
Our thoughts:
a) It's great to have the courage to experiment with beards and mustaches. Generally, they can change a man's face completely and until you do it, you will never know what you look like with one. If you grew a beard in your 20s and now you are in your 40s, you can try it again, as beards look differently on men at different ages. Usually facial hair makes you look older, and it did so for Andy, which is why we are glad he shaved it off.
b) If you opt to wear a beard, always keep it neat, trimmed and clean. Some hairs will grow longer than others or in a different direction, which is why it is important to always maintain your facial hair.
The glasses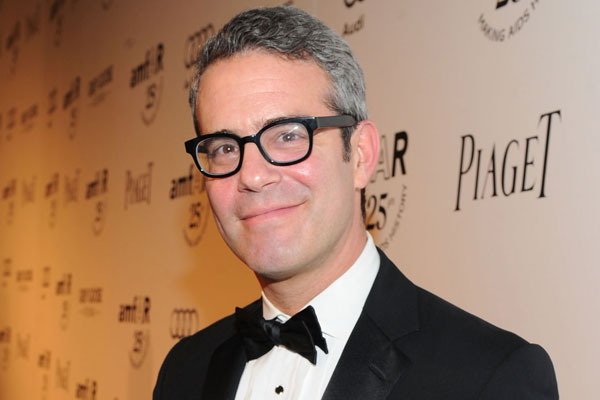 Andy's retro glasses definitely suit his face right, as he tends to have an oval-shaped face, which goes with pretty much any type of glasses. Keeping his hair short, Andy can definitely wear rounder frames as they won't be a mismatch, as they would have been should he let his wavy/curly hair grow longer.
To conclude, we can say that Andy is a great modern example of how you can be a stylish guy, apply sartorial rules and still own your personality! It is important to be able to wear both casual clothes and formal ones and Mr. Cohen does a great job at wearing both! He makes use of patterns and colors without looking weird and always wears well-fitted shirts, which is the first style rule! Congratulations, Andy Cohen!
Fraquoh and Franchomme
P.S. What do you think of Andy's style? What part of it do you like best? Is there a part you don't like? Share your thoughts in the comments below and don't forget to subscribe to our site via e-mail or to follow us on our social media!